Last year, I had the pleasure of restoring the crown moulding in a large home in Pasadena that was designed by the famous architect Myron Hunt, the same architect who designed the Huntington Library estate, the Rose Bowl and other renowed and historic properties in the greater Pasadena area.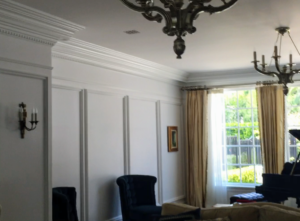 The 9 bedroom estate built in the early 1900's which was purchased around 2013 was originally going to be lightly remodeled before being moved into, but the new owners discovering that the home was painted with lead base paint took the home down to studs and restored it to its former glory. When I was asked to do the layered crown moulding restoration work I jumped at the opportunity as its not often that a finish carpenter has the chance to work on historic layered custom ceiling work like this in Southern California.
After waiting for more than one month for the mouldings to be reproduced from samples taken from the home, the mouldings were primered by the painting crew to prevent twisting and warping. The mouldings were stored in site made racks inside the home to allow for acclimation while I fabricated blocking to support the 3 and 5 layer crown moulding treatments throughout the home.
Working on ceilings that are 10 ft and higher downstairs is a slow, painstaking process but the results are satisfying. As I did the work, using the best and most efficient equipment available for cutting, shaping and installing architectural woodwork, I kept imagining how slow and laborious it surely must have been for the original carpenters who built this home and others like it.