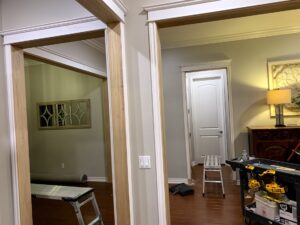 The typical new home being built in Southern California has characteristics which often pose a challenge for a homeowner who likes traditional inspired design. Starting at the front door looking in, these homes usually have relatively high ceilings that are 10 ft high with spacious rooms that blend into eachother without the usual room to room separations that older homes have. These open floor plan style homes usually have unfinished passageways with bullnosed drywall. For the home builder, this type of construction makes sense because they can construct and sell these home more quickly and profitably compared to building more refined homes that have windows, doors, and passageways that have casing. Without casing, these homes are usually painted throughout in one color as a change in wall color presents the challenge of where to transition color.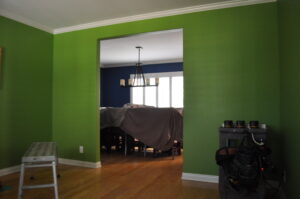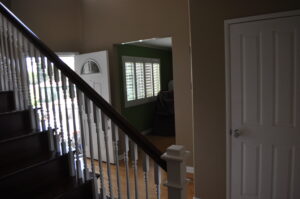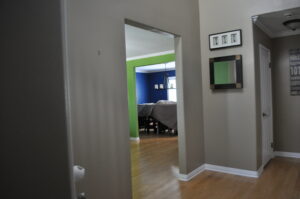 Recently, in a huge housing development in Chino, CA a homeowner contacted us about their new home. They have spent money on furnishing the home, adding framed art, painting, and furniture, but as is so often the case, they contacted us because they hit a point where their home felt unfinished and they couldn't put their finger on why. From the front door looking into their home, I could see 6 passageways and all of them had unfinished looking edges. Eventhough the home had crown moulding and baseboard, the rest of the home looked unfinished.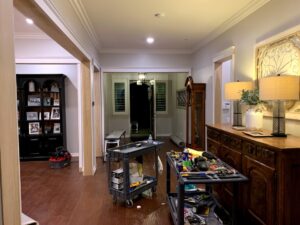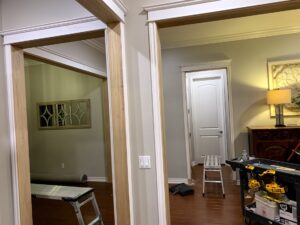 Adding trimwork to passageways like these requires adding smooth jamb before adding casing or the bullnose corners will remain exposed and the result will look amateurish. Crown moulding has a transformative effect on most homes by itself, but with their high ceilings, the plain and unfinished look of their passageways drew so much attention from the crown moulding it was obvious that the passageways needed their own details to give the interior a more finished look. After giving options to the homeowners, they decided to line the passageways and case them with period influenced headers. Looking forward to seeing these painted soon.