Starting around the 1980's, tract homes began appearing around Southern California which to this day often lack warmth and refinement.
I regularly get calls from folks in areas like Walnut, Chino, Diamond Bar and Upland who are the second or third homeowner and the discussion is very often the same. They desperately want to make their home feel more refined, more finished looking, but they're frustrated by the randomness of the ceilings and the lack of traditional space found in other homes. The challenge with such homes has to do with the tall sloping ceilings which can make rooms like the living and dining room feel empty and lack warmth. Contrary to what most people might think, adding crown moulding will not solve the problem – in fact it will usually emphasize the issue even more. Here's an example of crown moulding on a sloping ceiling that I installed a few years ago.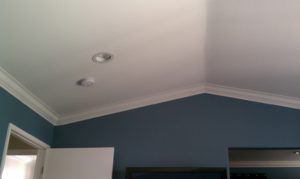 Once the homeowner saw the picture, they agreed that adding crown moulding wouldn't change the look of their rooms. After sharing lots of pictures from my portfolio and considering our options with the homeowner, I recommended a wainscot effect achieved by meticulous layout with laser and skimcoated walls rather than adding bulk to the walls with wainscot panels. The goal was to essentially ignore the slanted ceilings and draw the eye down making the room feel more finished. I also emphasized the windows and niche by upgrading the window stool, apron and casings.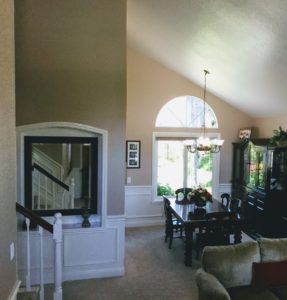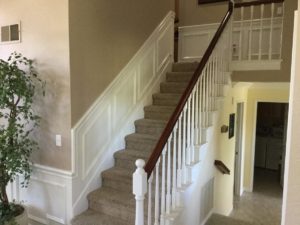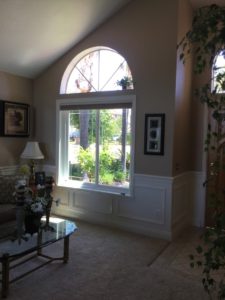 Inherent in these types of homes are some insurmountable obstacles to good design, but these kinds of decorative remodeling changes are well worth the money compared to the much greater expense of complete home renovations. An alternative to wainscot/wall frames for ceilings like these is to add a beam treatment or other ceiling treatment like this: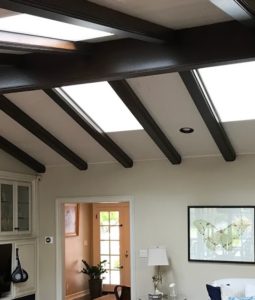 Visit spectaculartrim.com to see more examples of our work.