The California State License Board (CSLB) is a division of consumer affairs and exists for your protection. There are several ways to verify that a contractor quoting on work for you is qualified and actively licensed to do this work because hiring someone who isn't licensed and qualified is not only going to result in shoddy work, but in the event of a claim due to damage or injury you as the homeowner will be liable for hiring someone unqualified.
Finish carpentry requires an active C6 (cabinet, Millwork and Finish Carpentry) license or a B1 (General Building Contractor) license. The license must be in active status. The best way to verify that a contractor you are considering is actively licensed and qualified is to ask to see their license card. This is something all contractors carry in their wallet and asking for it will be something they will gladly show.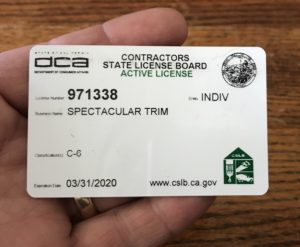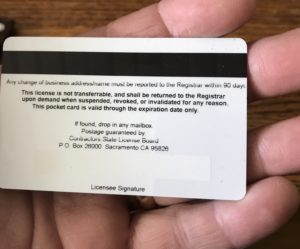 If for any reason their license is suspended by the license board they won't be able to present it because the CSLB demands the card back if a license is revoked. A license must be renewed every 2 years and will become invalid if the contractor fails to keep an active bond.
What about other contractors like C33 (Decorating, Painting)? No other license qualifies for finish carpentry work, so hiring someone with a license other than C6 or B1 for this kind of work is like hiring a handyman.
Why not hire a handyman? Its legal to hire a handyman for a project that has a total cost (materials, labor, and all expenses included) under $500. However, there's no guarantee that the work will be done by someone who has been vetted for their experience. Also, beware of a handyman that attempts to break up a larger project into sub $500 projects. That is illegal and you as a homeowner will be financially liable in the case of a dispute since you hired someone not qualified to do the work.